Program
DATES AND CONTEST SCHEDULE:
3(Thursday)-6(Sunday)of October,2002

3.Oct-Thursday
Arrival and registration
Opening ceremony
4.Oct-Friday
Preliminary 1st round
5.Oct-Saturday
Preliminary 2nd round
6.Oct-Sunday
Fly-Off Round 1
Fly-Off Round 2
Closing ceremony
Contest Site
Utsunomiya R/C Flying Club (U.R.F.C)Airport in Utsunomiya-city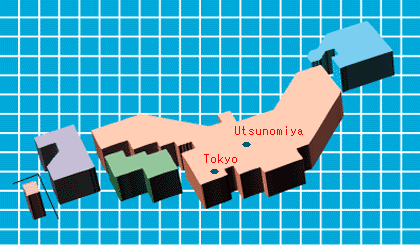 Contest Rule

2002 FAI Sporting Code,Section 4b and 4c-part 5;Helicopters.

Preliminary 1st round
41 Pilots
Schedule A
Preliminary 2nd round
41 Pilots
Schedule B
Fly-Off 1st round
15 Pilots
Fly-Off 2nd round
15 Pilots

Low-Oil Fuel
All competitors have to use Official ecology fuel( 10%oil Fuel or 15%Nitro-18%Oil Fuel)
Low noise bonus score.
The competitors who adapts itself to the following condition (1) & (2), get 3% bonus score of the total judge point in the preliminary 1st & 2nd round .
(1) A noise level was less than 85 dB(A) over a soft(grass) surface or 87 dBa(A) over a hard surface(asphalt,concrete,etc) at a distance of 3 metres while the helicopter is hovering at eye level over the centre of a 2 metre diameter circle.
( note: U.R.F.C Airport.....Soft surface)
(2) At the all aerobatic manoeuvres , more than 4 judges authorized that the helicopter was 'low noise' .

Classification.
After the completion of two official preliminary rounds,the best score will be used to determine
the fly-off competitors.
The top 15 of all competitors then compete in two fly-off rounds to determine the final individual classification.

2003 F3C World Championships Japanese Team Trial
2003 W/C Japanese Team Trial (24.Nov.2003)
The top 15 of 2001&2002 Japanese Natiolals then compete in Japanese-Team Ttrial to determine the 2003 F3C W/C Japanese Team.
Organisation
ORGANIZERS:
Japan Model Aeronautic Association(JMA)
Utsunomiya R/C Flying Club


Championships Director
Akira Azuma
J.M.A
Competition Director
Shin Abe
Chairman of J.M.A Helicopter S/C
Sports Director
Makoto Kunii
J.M.A Helicopter S/C member
Eiji Sensui
J.M.A Helicopter S/C member
'03 F3C W/C Japanese Team Managger
Ichiro Komori
J.M.A Helicopter S/C member
Flight Line Director
Susumu Seino
J.M.A Helicopter S/C member
Computer Service
Yasofumi Hiramori
J.M.A Helicopter S/C member
Frequency Control
------
Futaba
------
Futaba
Time Control
Syuji Hamada
Hama International Inc
Transmitters Impound
Sadami Hara
JR Propo
Takanori Endou
Kyosyo
Tecnical Staff
Hiroshi Tamura
Hirobo
Hideo Yamanaka
DY Products
Model Flyght
Utsunomiya R/C Frying Club Member
July&Judge
J.M.A Jury
| | |
| --- | --- |
| Takayuki Sakai | Vice Chairmam of J.M.A Helicopter S/C |


Judge
Noise Level Judge
Noise Level Mersurment

Kiyokazu Sugaki
J.M.A Judge
'93,'95,'97,'01 F3C World Championships Judge member
Shigetada Taya
J.M.A Judge
'99 F3C World Championships Judge member
Zensuke Kawamura
J.M.A Judge
Katsumi Simizu
J.M.A Judge
Kensuke Hirooka
J.M.A Judge
Kiyoyasu Kunii
J.M.A Judge
Kuichi Yajima
J.M.A Judge
Takashi Ishimori
J.M.A Judge
Takakiyo Kitagawa
J.M.A Judge
Senji Watanabe
J.M.A Judge
Yutaka Ueda
J.M.A Judge